Bluehost or HostGator? Which one is the best web host and why?
Bluehost vs HostGator; two of the most popular web host companies in the web hosting industry. Here we are going to have an over-the-shoulder review of these two web hosts, and we are going to look at all the features, pros and cons of them (Bluehost vs HostGator In 2021)
Use simplicity (ease of use)
WordPress
Speed & Uptime metrics
Customer Service & Support & backup
To be honest, choosing between these two web host providers, is no simple task to do as they both provide a great service and amazing value for the money. Keep on reading to learn everything you need to know about Bluehost and HostGator and find out which web host is the best suit for you!
1. Speed and Uptime – Both Are Reliable
| Bluehost Shared Hosting Uptime  | HostGator Shared Hosting Uptime |
| --- | --- |
| 99.97% (last 12-months) | 99.94% (last 12-months) |
Some reviews have been done they collected some data from more than 35+ hosting providers and found out that the average uptime criteria is around 99.94%. In another way, everything beyond this criteria is fantastic and anything below it, is kind of low quality
If you look at the last 12- month data for Bluehost and HostGator, you will see that Bluehost went beyond the criteria with an average uptime of 99.96%. HostGator is just below the criteria with 99.93%. Because these numbers are quite similar, so we cannot really identify a winner. However, Bluehost gets a slightly better result with the better rankings
If we look back, Bluehost and HostGator didn't use to have an amazing uptime speed until a few years ago when their basis had a substantial overhaul. This update definitely ranked up their credibility and reflects on the data as well.
Let's take close look at the month-to-month breakdown for both Bluehost and HostGator
Bluehost Uptime Metrics (Bluehost wins)
Bluehost's average 12-month uptime is almost 99.95% with approximately four hours of total downtime and 122 outage cases.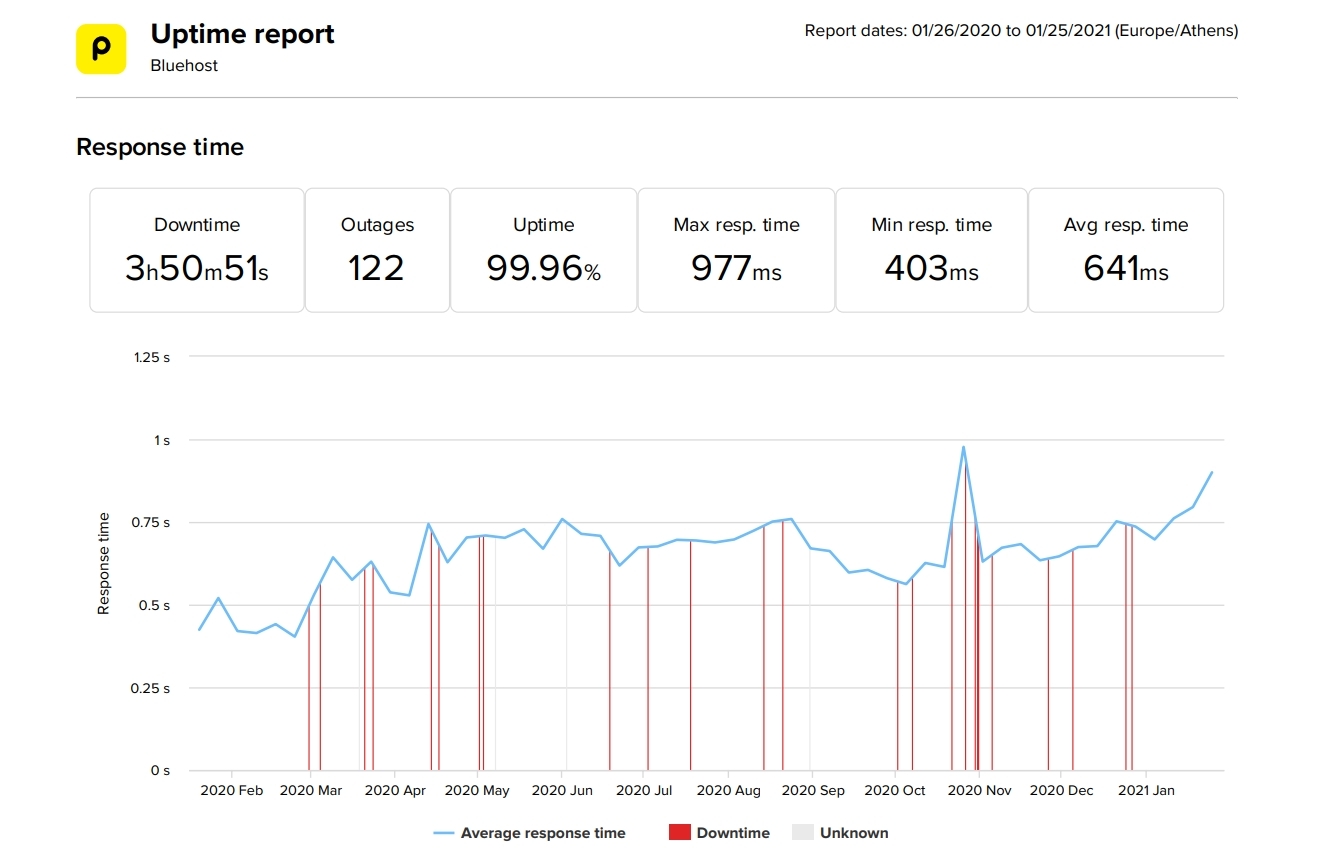 January 2021: 100%
December 2020: 99.98%
November 2020: 100%
October 2020: 99.67%
September 2020: 100%
August 2020: 99.99%
July 2020: 99.98%
June 2020: 100%
May 2020: 99.90% (scheduled maintenance)
April 2020: 99.99%
March 2020: 99.98%
February 2020: 100%
HostGator Uptime (HostGator losses)
HostGator's approximate 12-month uptime is 99.93%, with almost six hours of total downtime and 108 outage cases.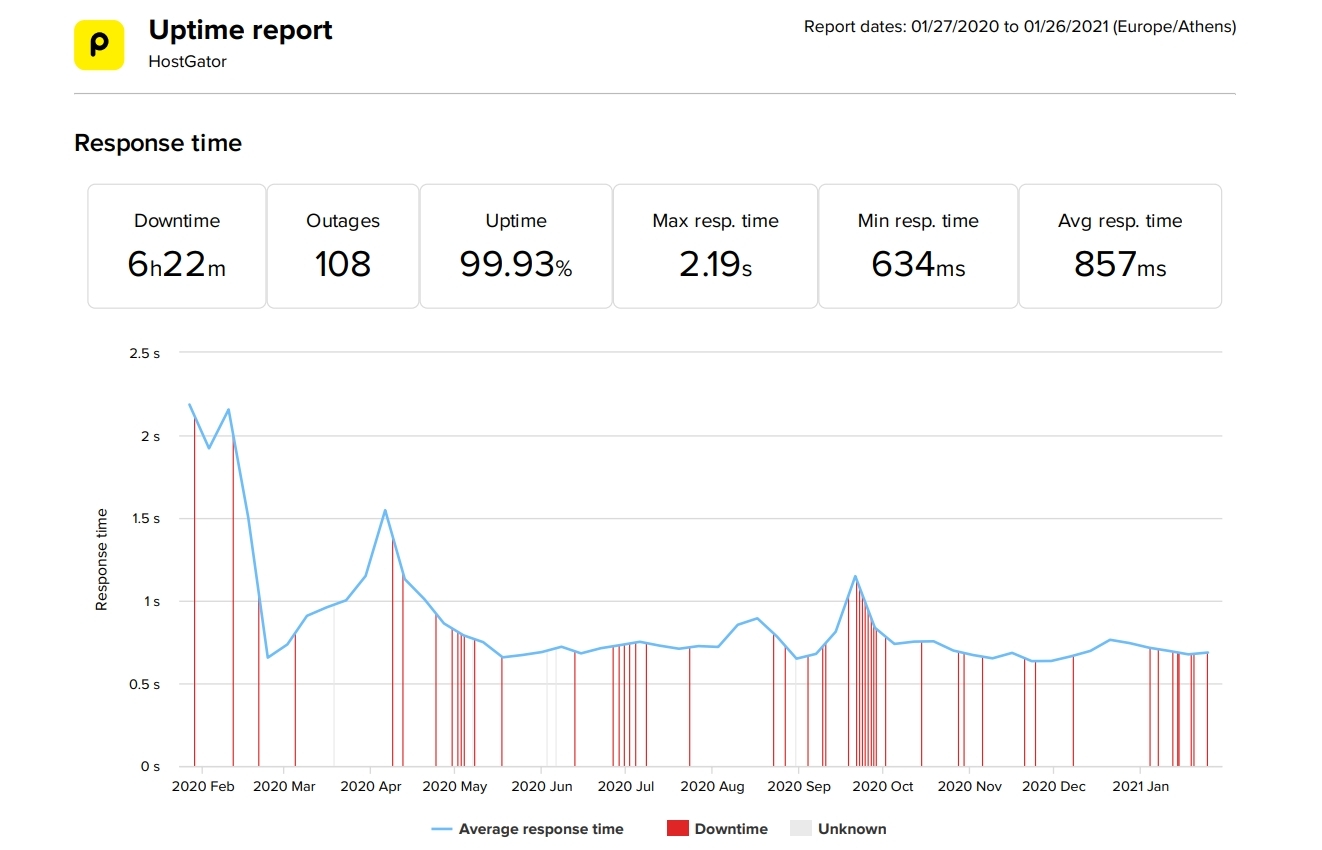 January 2021: 99.97%
December 2020: 100%
November 2020: 99.99%
October 2020: 99.99%
September 2020: 99.50%
August 2020: 99.99%
July 2020: 99.98%
June 2020: 99.99%
May 2020: 99.96%
April 2020: 99.78%
March 2020: 99.99%
February 2020: 99.99%
Flexible and Upgradable: Bluehost subscription plans are designed in a way to suit all different user's needs and offer you enough flexibility to improve without having to change hosting providers. Updating to a more advanced hosting plan or something totally different altogether can be done simultaneously, without your website having to experience any sort of downtime during the move. In addition, Bluehost provides a custom UI that allows you to control and manage server resources to identify the appropriate time to upgrade.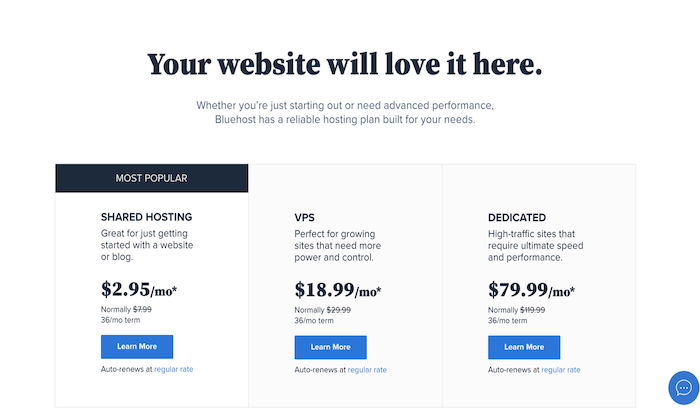 Genuine Customer Support: You won't definitely need Bluehost customer support every single day, but when you do, just to let you know that it's on fire and effective. You are able to get the solutions to your problems via live chat, phone support specifically for different hosting types, and of course, social media support which is the coolest part. In addition, Bluehost can solve issues before you consult with a professional – all you need to do is to refer to support library that includes thousands of detailed tutorials and FAQs to resolve common difficulties.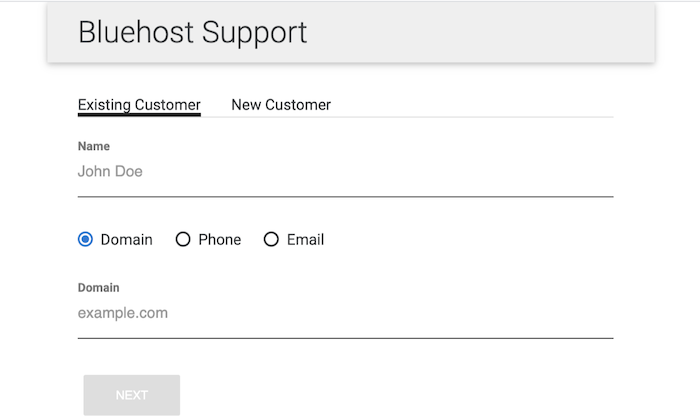 Ideal Security: Bluehost always provides its users high quality website protection. It offers secure shell access (SSH) to allow admin and web developers to safely access config files. They also utilize anti-spam tools like SpamExperts. Spam Hammer, and Apache SpamAssassin to keep the viruses away. Other security advantages consist of password-protected directories, IP address blacklist, email account and user account filters, and digital certificates and private keys management access.
App Library: One of the greatest USPs of Bluehost is its enormous application library. You are able to activate all kinds of services and software through this app to add more value and options to your website and hosting account. You can also add an eCommerce store as well as connect hosting account into Google apps, which, in turn, will give you direct access to an even more expensive plugin library to choose from.
They Have Freebies That Are Necessary: So many hosting providers give their customers different freebies. Unfortunately, most of them are super shallow and don't offer any value at all. What do you want to do with 24/7 support of free WordPress installation? not talking about Bluehost though. All of its hosting plans consist of a free domain name ( for the first year), a free SSL certificate, and even daily backups which is amazing! (To be honest, I could save one of my websites by having this option on Bluehost which saved my life 🙂
What About Storage and Bandwidth?
One of the huge promises of HostGator is its unrestricted storage options. They are kind of right. All their plans come with unlimited storage, database and unmetered bandwidth. There is no restriction to the amount of traffic you'll get, that can ensure you for scaling your website in the future.
Bluehost is generous. The basic plan gives you a decent 50GB ( which is way more than enough at the beginning) and 20 databases and upgraded plans are unlimited on both counts. Bandwidth is unmetered on all plans too.
| | HostGator | Bluehost |
| --- | --- | --- |
| Entry-level plan storage | Unlimited | 50GB |
| Middle plan storage | Unlimited | Unlimited |
| Higher plan storage | Unlimited | Unlimited |
One thing to consider, however, is that hosting service providers also evaluate something called inodes. It's the same as number of files and folders you have on your hosting account. And having too many of them can have an effect on your account. With HostGator, you are allowed to have a maximum of 250,000 and Bluehost also has the same thing
If you ever cross that, you'll violate their terms and conditions, and it's not really clear exactly what would happen – you'll most likely have to upgrade or lower your inodes count.
Winner: Another point for Bluehost – but HostGator isn't too bad for most users.
What About Site Migration – How Easy It Is?
Migrating a website is no easy feat, and EIG companies tend to be particularly difficult with the process. Bluehost keeps true to the tradition, by not offering the service at all… except if you pay $150 (5 sites and 20 email accounts)
Website migration is not an easy feat, and EIG companies are willing to be strict with this process. Although, the migration for HostGator is Free of charge but for Bluehost you need pay a fee for that.
What Are Bluehost Features?!
Bluehost gives you access to cPanel, which is popular tool for controlling your site. In addition, you can also use the one-click WordPress installation. However, if you have a website performing, then keep in mind that Bluehost migrates one WordPress based site for FREE
Bluehost also works well with CloudFlare for more protection against viruses and hacks, hotlinks and delivering your content faster for returning visitors. You can install password-protected directories and add two-factor authentication to your login credentials.
Some of the other well-known pros are the spam-protection tool spam Expert, site backup tool CodeGuard Basic, a free SSL certificate, and more domain privacy and protection advantages, depending on the plan you go for.
As a bonus, you also get $100 for Microsoft Advertising and Google Ads. However, this bonus only applies to new accounts and after you spend $25 in both accounts
Also, as a bonus, you get $100 for Microsoft Advertising and Google Ads (which is mind-blowing) . However, this bonus is only for new accounts and after that, you spend $25 in both accounts
Which One Do We Recommend? (Bluehost Or HostGator)
When we decide whether the Bluehost Shared Plus or the HostGator WordPress started plan is your best available option, it comes down to a few aspects.
If you are looking for tons of features and options, like capability to host multiple websites that might not all be WordPress sites, cPanel access, staging site support, a free SSL certificate, unlimited bandwidth and storage, a useful control panel, and a wizard to guide you set up your WordPress website, then the Bluehost Shared Plus plan is fantastic.
However, while you can only host one WordPress website and don't have cPanel access, as well as a few other extras, as our performance tests illustrated, the HostGator WordPress Started Plan delivered a good service but the durability and uptime of the server is not really good
With prices starting from $5.99 per month (with further discounts often available), both options provide fair value for money. Deciding which one is the right choice for your website comes down to whether you prefer the performance of HostGator or the features and options of Bluehost.
With such prices from $5.99 per month (with some additional discounts available), both options offer fair value for money. Deciding which one is the right alternative for your website comes down to whether you rather having a better performance of HostGator or the unlimited features and options of Bluehost.